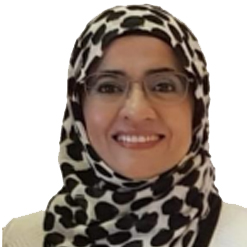 Dr. Sadia Malick
---
Dr. Sadia Malick FRCOG is a Consultant Obstetrician & Gynaecologist working at the Northwest Clinic in Jumairah Dubai. She is also an Associate Professor at the Khalifa University in Abu Dhabi.
Her special interest in Abnormal Uterine Bleeding management and performs advanced hysteroscopy procedures. She has a special interest in Office Gynaecology. She established the first office gynaecology unit at Corniche Hospital and performed outpatient hysteroscopy without anaesthesia. Her other interests include PCOS and female fertility. She is passionate about helping women going through the change in hormones after 40 years.
She is an author of the chapter on Recurrent Miscarriage in the highly acclaimed Obstetrics and Gynaecology Textbook High Risk Pregnancy by Professor James. She established the first Recurrent Pregnancy Loss clinic, and the first Early Pregnancy Unit at the Corniche Hospital, according to international guidelines. These are the first ever service of its kind in SEHA Abu Dhabi.
She is a TED x Speaker and has extensively published in international journals and is also a reviewer for many journals. She has worked and trained in United Kingdom and was awarded the Certificate of Completion of Training (CCT) and was working as a Consultant Obstetrician and Gynaecologist in United Kingdom previously. She has recently been awarded the Womens Leadership Award in Dubai by the World Womens Leadership Congress Awards.
Dr Sadia works across the world to help reduce maternal and new-born mortality. She is involved in projects of distributing clean birthing kits to all women having a homebirth all over Pakistan. She has set up transport projects to help transfer labouring women from their homes in the mountains of KPK to a place of care. She is an advisor to four charities, MABIN, AIMS, Midland Doctors Association and Sakinah. She is also an expert for Ferring international working towards the uptake of Injection Carbetocin in the resource poor countries as per WHO essential medicine guidelines.
Dr. Hussain is a Research Specialist in Center of Excellence in Maternal and Child Health department &Deputy Director in APPS Europe Welfare Projects.
Experienced Researcher with a demonstrated history of working with The Aga Khan University & the health care industry, Skilled in Research, Management, Healthcare, Leadership and Training. Strong research professional with a Bachelor of Medicine & Bachelor of Surgery – MBBS focused in Medicine from Capital University of Medical Sciences.
Being a Researcher in Maternal and Child Health department, he has profound experience in designing supervising and monitoring and evaluation of several research projects related to maternal and child health domain in developing countries.
Within the domain of MnCH, he has a special focus on social determinants of Health (SDoh), Service delivery (SD) and Health Services/System Research and surveillance system He has an added expertise in Mix method (Quantitative and Qualitative Research). He has been involved in Advocasy, training & Capacity building of different populations pertaining to improving health and nutrition of mother and children and has been involved in developing training and curricula in different projects.
Being a Researcher he has experience to work with Health department Government of Baluchistan's BHU & Hospital's to improve DHiS (District health information system), KMC (Kangaroo Mother Care) , VASA (verbal & social Autopsy), Public & Private Health Facility Assessment.
Dr. Umer Chaudhry is a Pakistani origin German born Doctor. He did his medical graduation from a prestigious German Institute "The Georg August University of Goettingen". During and immediately after completing his graduation he did research in the field of neurophysiology for 3 years.
He is working as Chief Consultant in Trauma and Orthopedic Surgery. He is specialist in Emergency medicine and ultrasound diagnostic as well.
Dr. Umer is also registered as a Medical Practitioner with Specialist Registration in the United Kingdom (GMC).
He did his specialization in Orthopedic Surgery and Trauma Surgery from the "Hessing-Stiftung" Augsburg. "Hessing-Stiftung" is one of the most famous Institutes of Orthopedic Surgery in Europe in which many football players and businessmen – having international fame- are being operated and treated.
Dr. Umer was honored to operate one of the most richest expats and international fame holding business tycoons, Dr. Mohammad Zahoor, who came all the way from Ukraine to Germany to undergo a complicated spine surgery in Hessing Stiftung hospital.
Dr. Umer was the doctors ́ speaker of that hospital and was engaged in optimizing the treatment procedures and ensuring proper doctor rights.
During his tenure at "Hessing Stiftung" he has also worked as a lecturer to physiotherapists and paramedical Staff in Germany for their necessary training modules.
In this COVID-19 pandemic he has diagnosed and treated hundreds of COVID-19 positive patients in Emergency medicine. He was successfully regarded as the Frontline Emergency Doctor during this historic pandemic.
Because of his emergency services over the previous years he had been portrayed in a documentary on German Television.
Due to his Pakistani Origin and family roots, he has always been devoted towards Pakistan and for that matter he has been running an organization with the name of
Medidea in Pakistan to assist the poor and needy to combat financial difficulties. Hundreds of families have benefitted to date from this organization.
Lastly, he is of the firm opinion that the Pakistani Healthcare setup needs revamping at its core especially with respect to the basic healthcare facilities and requires the introduction of modern German Technologies. For that matter, he has built a state of the Art Hospital "Umer Bashir Hospital" which is Germany based model, thus with the aim of providing consistent, reliable and up to date healthcare facilities to the general masses of Pakistan. www.ubhospital.com
His ideas, beliefs and performance in the field serves as a torchbearer to provide exceptional, in time healthcare facilities to people of Pakistan. Thus concluding his vision of the betterment of the Pakistani Society. https://www.facebook.com/UmerBashirHospital/
He is enthusiastic to help and support Pakistani doctors through the APPS Europe platform.
Dr. Muhammad Shahid is currently working as a senior data scientist at Volvo Cars headquarters in Sweden. Previously, he was serving as assistant professor in a Saudi university during 2015 to 2017. His area of research has been artificial intelligence, machine learning, and signal processing.
Dr. Shahid has made a global footprint in the area of artificial intelligence with his peer-reviewed international publications in various conferences and high ranked journals.
Dr. Shahid is a PhD in applied signal processing from a well reputed university in Sweden where he has been teaching in the field of electrical engineering for around 5 years.
Dr. Shahid has also worked at Jazz (Mobillink) during 2005-2008, where he started after completion of his bachelors in electrical engineering from UET, Lahore.
During and after his PhD research, Dr. Shahid has spoken at a number of international conferences, symposiums, and workshops. With over 7 years of university level teaching experience, he aspires to be a lifelong learner and regularly gives lectures in various universities on his Pakistan visits. In addition, he delivers online lectures as well for his global audience.
Dr. Shahid has been immensely involved in social entrepreneurship activities and has won a number of prestigious Swedish and International awards. To name a few, he won Swedish national award called Franke Stipendium in 2014 and under his chairmanship, his alma mater received the IEEE Examplary Student Branch in 2013.
Dr. Shahid is also founder & CEO of a non-profit organization in Sweden that aims at influencing Pakistani young professionals for making better decisions in their career choices, be it education, job, or entrepreneurship!
Dr. Mubashir Hassan is a researcher, scientist, university teacher and philanthropist.
He earned his Master's in Computer Science from University of Baluchistan, Quetta in year 2003, at the same time he was appointed as Director IT in his parent University where he delivered his first project to connect the University to the national grid of IT networks (https://pern.edu.pk) and lead the team for computerization of University. In 2006 he joined SUPELEC France, one of the most prestigious Grand Schools of France (https://www.centralesupelec.fr/) for his MS (MPhil). Later in 2010 he joined University of Versailles for his PhD studies (https://www.uvsq.fr/english). The area of the research was optimization and enhancing the Quality of Service of Videos in Wireless Networks. During the research work he proposed some advanced protocols algorithm for management of Quality of Service and enhancement of user experience.
He graduated in 2013 with highest grade of "Very Honourable" his doctorate degree.
He joined IUT Velizy a notable government institution for teaching where he taught to final year engineering students for two years, in year 2015 he left the govt job & came into private sector and started working as Senior IT Manager in EDF, Electricity of France. Later in 2015 he joined Renault Car Manufacturer as Technical and Security Manager and worked many vital projects around EU. One of which was Automated driver-less car, and he was one of the pioneer group who tested autonomous car in real traffic conditions.
(https://youtu.be/niD2_s1qPB4).
He has published many research articles in research journals and his research is also available as book published by Google books. He has been appointed for thesis reviewer for many PhD candidates and also Technical Program Committee Member (https://conferences.uaeu.ac.ae/iit20/en/technicalcomm.shtml) for scientific conference on Internet of Things.
Presently he is consultant for AXA Investments and managing their worldwide IT deployments and before joining them he worked for Banque Postal and TDF (French Telecom Regulatory Authority).
Dr. Mubashir is also a member of board of Trustees for International NGO Muslim Hands and their Treasurer in France. He has been leading the teams for 7 years for fund raising, project implementation, governance & strategy to execute the operations in 37 countries worldwide. (www.muslimhands.fr)
It includes clean drinking water, education and health. He has carried over thousands of projects to increase the Quality of lives of Pakistanis and helped international groups like Schneider to execute the projects in Pakistan.
He has been founder member of Pakistani Professionals of France and executed Pakistani diaspora-based projects in France to help uplift the overall international image of Pakistan. Most recently he led the community based actions in Paris during the pandemic of Covid19 and provided PPEs to health professionals, old homes, police and mayor offices. Beside this he led the free food distribution and dry ration distribution among homeless and needy families. For his service Ministry of Foreign Affairs Pakistan added him Foreign Minister's honour's list.
(http://mofa.gov.pk/pakistan-franceprofessionals-forum-pfpp/ ).